To enable customers access to the B2B Portal or Website, you need to allow the Contact on a Retailer to have access.

After logging into the Inzant Sales Management Portal you'll need to navigate to the Retailer in question.

This involves clicking the "Retailer" link in the Side Bar menu. This will opening the Retailer search page, which will display all the Retailers and allow you to either scroll down the list or search for the retailer by name or account number.

You can also use click the More Filters button to display the full set of filters available to assist you narrowing down the retailers you are looking for.
Once you've found the right one simply click the Edit icon (pencil) in the Actions column. This will open the Retailer Details screen.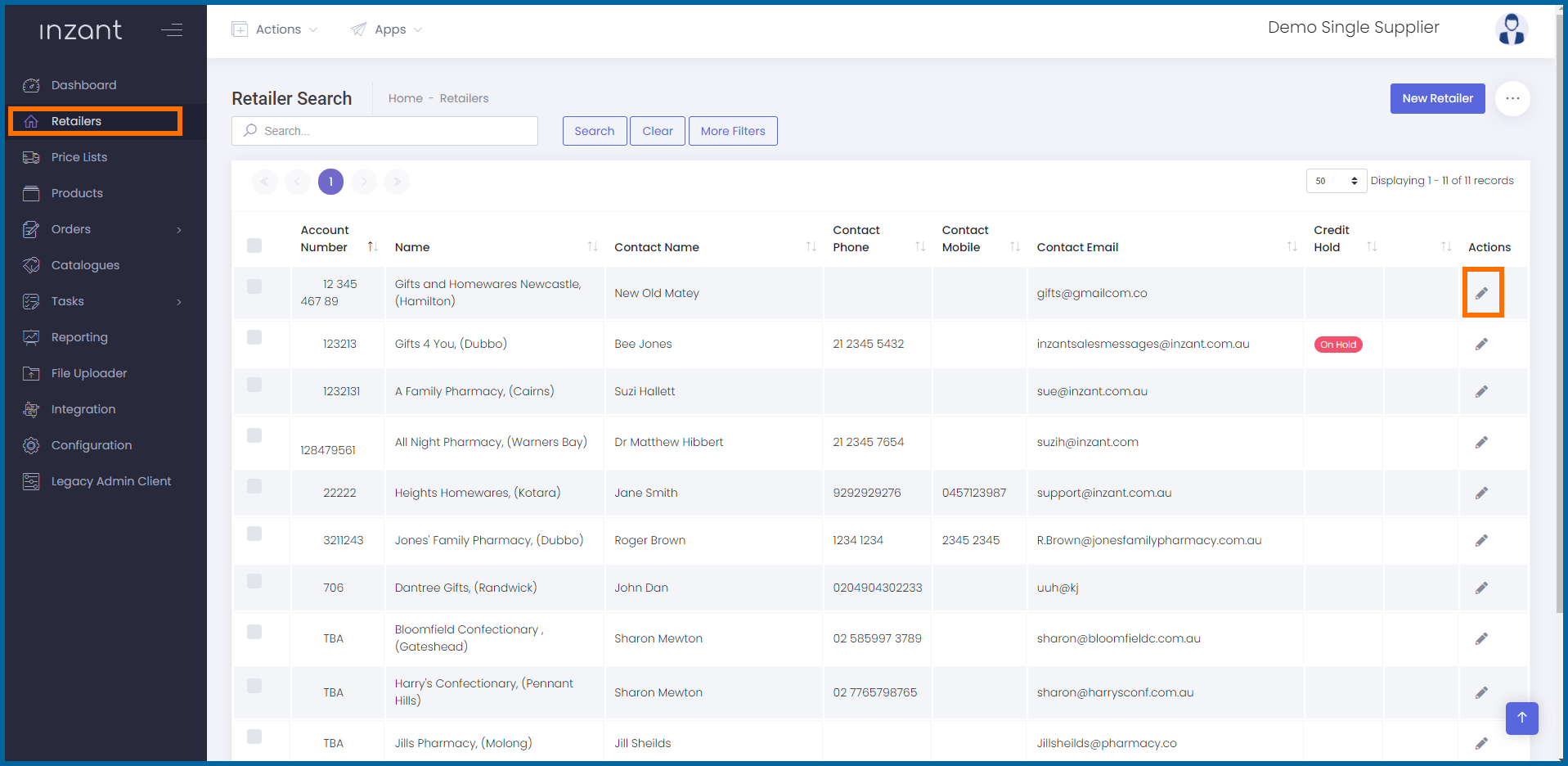 Now you are on the Retailer Details screen, you will need to locate the Contact you wish to provide access for.

Click on the Contacts Tab to
display the complete list of Contacts associated with that Retailer.
Once you have located the Contact, Click the Edit Icon (Pencil) in the Actions Column. This will display the details for the Contact.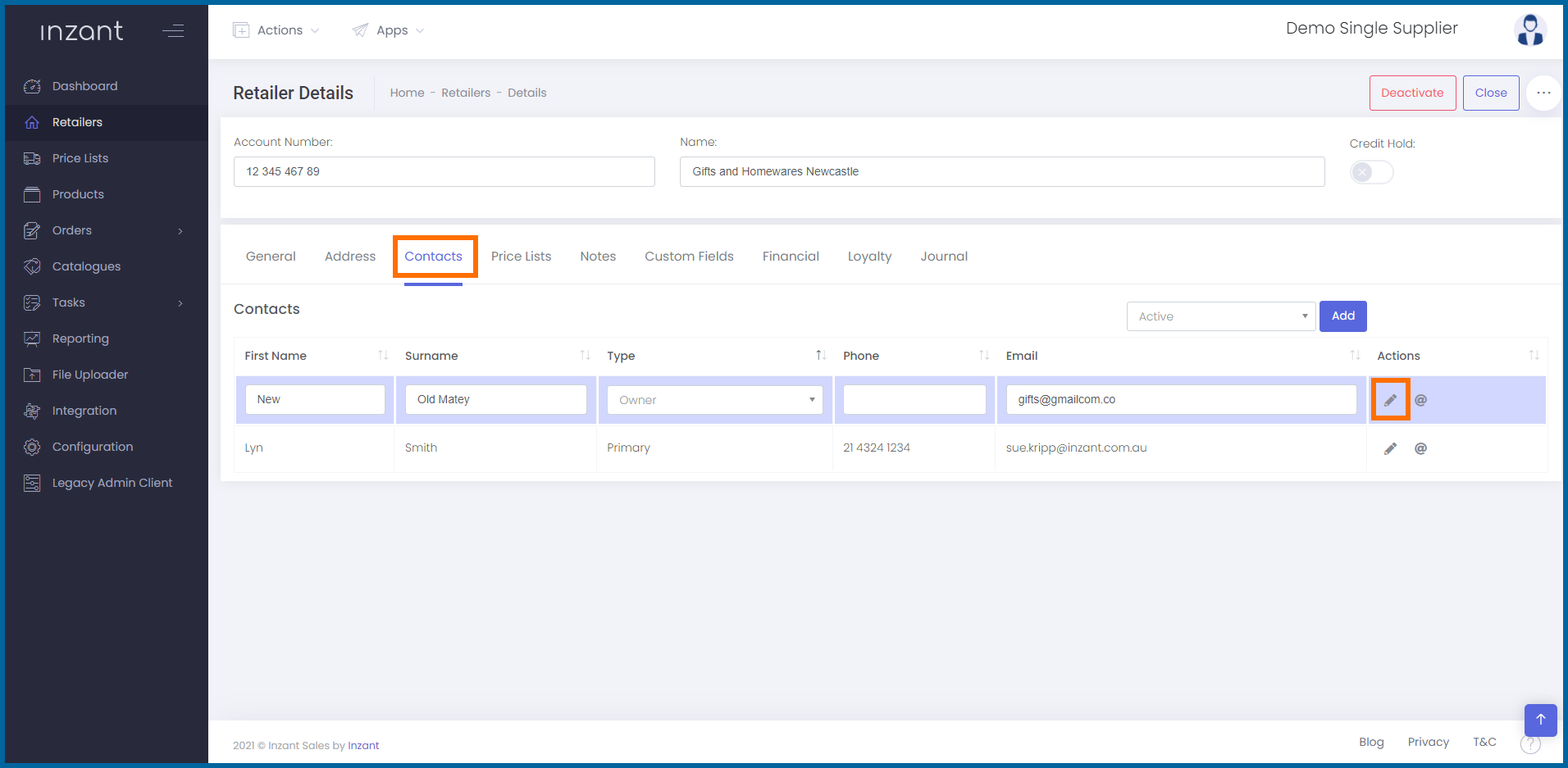 Now you are on the Contact Details screen, you can click on the Website Tab to display and edit the Website Access details.

Email

This is a required field and must be filled in for the customer to have website access.


This must be a real email address - temporary passwords and other system emails will be sent to this email address.

Website Username


This is a required field and must be filled in for the customer to have website access.


Its usually best to either set this up as a standard field like account number or in consultation with the customer, either of these methods should provide an account number the customer will remember.

Has Website Access


This determines if the customer is allowed to login to the website, it must be checked to allow the customer to login.


Website access can be revoked at any time simply by opening this screen, unchecking this field and saving the customer (without any other loss of data, and access can be restored at any time).

Reset Password on Saved


This field will prompt a new temporary password to be sent to the customer. Only check this field when you want a temporary password send, like when you first provide website access or if they forget their password.


After checking their field and saving the existing old password will no longer work.

After making the required changes, click the Update Button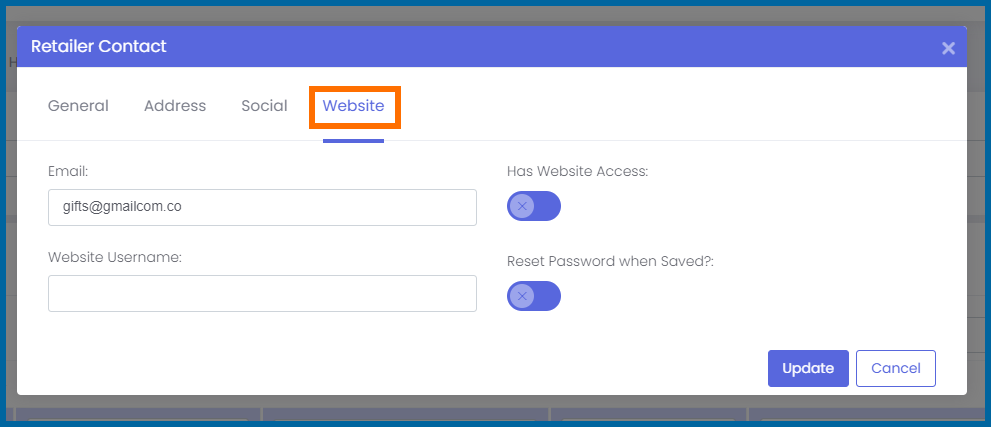 This will update the details for the Retailer Contact and return you to the retailer screen.

The Retailer screen knows there was an update and will now have the Save buttons visible.

You need to Save the Retailer to complete the operation.
If you do not want to save the change, click the cancel button.