This guide provides information on adding and editing Contacts for Retailers in the Inzant Sales management Portal.
If you are looking for information on assigning a contact Website access, please see the dedicated guide below

To Add or Edit a Contact on a Retailer you need to first load the Retailer Detail screen

You can open the Retailer Detail screen from the Retailer Search screen using the edit button


Once on the Retailer Detail screen

Select the Contacts tab

Once on the Contacts tab you will see a list of all current contacts.

To view or edit an existing Contact click the Edit button (pencil)

To Add a new Contact Click the Add Button

This will display the Retailer Contacts details screen.
This screen contains a number of Tabbed panes in the bottom section of the screen.
The default Pane on screen load if the General tab.

Clicking on the Tab headings will change to that pane (details below).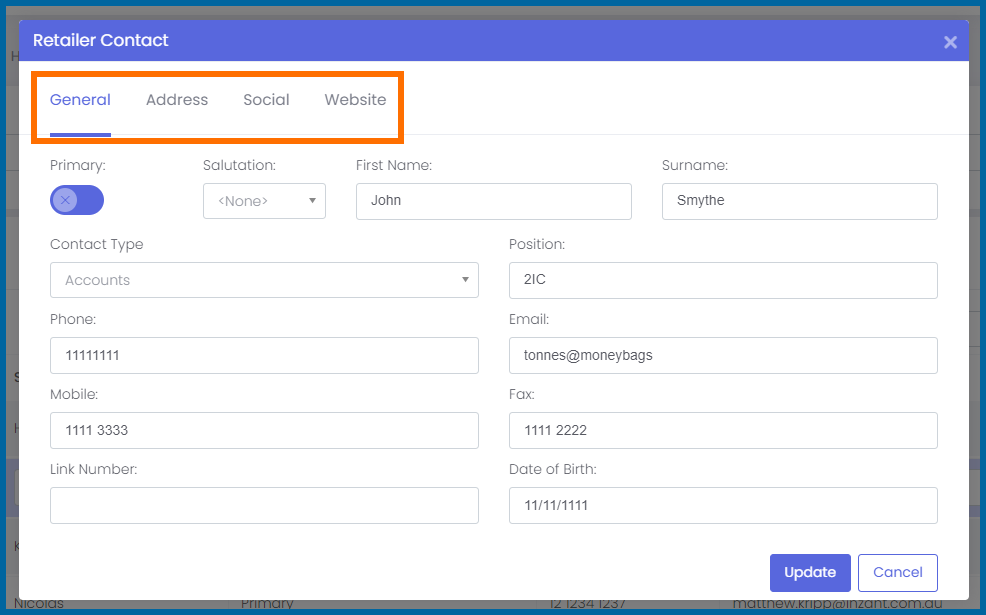 You can add or edit the information in the fields on the different tabs

Once all information is entered,
Click the Update Button.

This will update the details for the Retailer Contact and return you to the retailer screen.

The Retailer screen knows there was an update and will now have the Save buttons visible.
You need to Save the Retailer to complete the operation.




If you do not want to save the change, click the cancel button
There are some data fields that must be completed to be able to save a contact. If you have missed any a prompt will highlight the missing data.
Once you have entered the missing data you can Update again

The information Tabs Available are:

General
The general tab includes basic information about the Contact



Address

The Address information includes both street (delivery) and Postal Address field. There is a copy button to copy form one to the other and also from the Retailers address details



Social

The social tab contains links to the contacts social media presence.


Note: If you will be using MailChimp or similar services to build mail lists we recommend ensuring the Receive Marketing Emails option is on so it will be included in the system reports




Website

The Website Tab allows you to manage access and details to enable the contact to access the B2B website.

To provide website access a User Name and Email Address is required as well as checking the boxes "Has Web Access" and "Reset Password on Save" selected.